PRESS RELEASE
SANCTIONING THE VISIT TO LOME OF A DELEGATION OF THE INTERNATIONAL ORGANIZATION OF FRANCOPHONIA (OIF), WITHIN THE FRAMEWORK
OF THE NEXT ORGANIZATION OF THE 33 rd MINISTERIAL CONFERENCE OF FRANCOPHONIE (CMF) IN LOME
As part of the preparations for the organization of the 33 rdMinisterial Conference of La Francophonie (CMF), to be held in Lomé from 24 to 26 November 2017, an OIFdelegation led by Ambassador Jacques BILODEAU , The Secretary General of La Francophonie, visited Lomé from 25 to 28 April 2017.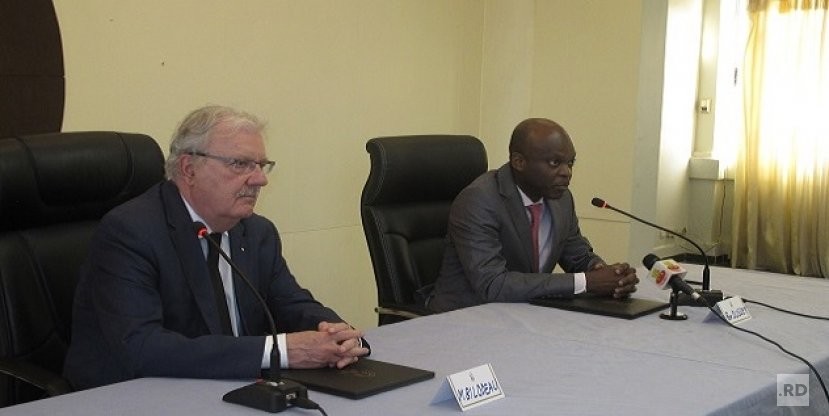 During the visit, the delegation held working sessions with the National Organizing Committee and visited the Conference Center as well as several hotels that could be accommodated to accommodate the 450 participants expected.
The stay was sanctioned, on Friday, April 28, 2017, by the signing of a Memorandum of Understanding between the Government of the Togolese Republic, represented by HE Prof. Robert DUSSEY, Minister of Foreign Affairs, Cooperation and African Integration and the OIF represented by Ambassador Jacques BILODEAU .
The Memorandum of Understanding sets out the practical arrangements for organizing the 33 rd CMF.
The Conference will convene from 25 to 26 November 2017 all Ministers of Foreign Affairs of the Francophonie of the 87 member countries, associate members and observers on the theme: "The new economies: the blue economy and the green economy, new engines of growth, inclusion Social and sustainable development ". It will be preceded, on November 24, 2017, by the session of the Permanent Council of the Francophonie (CPF).

This meeting will lead to important decisions that will lead the OIF to support, among others, its members in mobilizing financing to develop new economies.
Moreover, the organization of this important event constitutes further proof of Togo's diplomatic influence on the international scene
Done at Lomé on 28 April 2017