PRESS RELEASE
Within the framework of the 47th session of the Council of Ministers of the Organization for Islamic Cooperation (OIC) organized on the theme: "united against terrorism, for peace and development", H.E. Prof. Robert DUSSEY, Minister of Foreign Affairs, Regional Integration and Togolese Abroad, paid a visit to Niamey in Niger on Friday, November 27, 2020.
On the sidelines of the work of this session, Minister DUSSEY was received in audience by H.E.M. Mahamadou Issoufou, President of the Republic of Niger, to whom he delivered a message from H.E.M. Faure Essozimna GNASSINGBE, of which he is the bearer.
During their meeting, Minister DUSSEY, on behalf of the Togolese Head of State, offered his condolences to President Mahamadou Issoufou following the disappearance of former President Mamadou Tandja.
The Nigerien President and the Togolese Foreign Minister then proceeded to a wide exchange of views on issues of common interest bilateral and multilateral.
Addressing bilateral issues, they welcomed the excellent relations of friendship and cooperation that exist between Togo and Niger and expressed their willingness to work to strengthen them, particularly in the areas political, economic, technical, cultural and scientific for the happiness of the Nigerien and Togolese peoples.
Examining multilateral issues, Minister DUSSEY and President Mahamadou Issoufou expressed their concerns over the serious issues of terrorism and cross-border crime that are shaking the West African region. In this regard, they commended the efforts made at the regional level in the fight against these scourges and called for the strengthening of the coordination of actions with the assistance of the international community in order to meet the many related challenges.
They also welcomed the effective holding of the 47th Session of the Council of Ministers of the Organization of Islamic Cooperation in Niamey and hoped that this session would lead to satisfactory conclusions aimed at combating terrorism and guaranteeing post governance. covid-19 more democratic economically and politically.
At the end of the meeting, Minister DUSSEY expressed to H.E.M. Mahamadou Issoufou, President of the Republic of Niger, his sincere thanks for the welcome he received during this visit.
While thanking Minister DUSSEY for this mission entrusted to him, President Mahamadou Issoufou asked him to convey his sincere greetings to his brother and friend, President Faure Essozimna GNASSINGBE.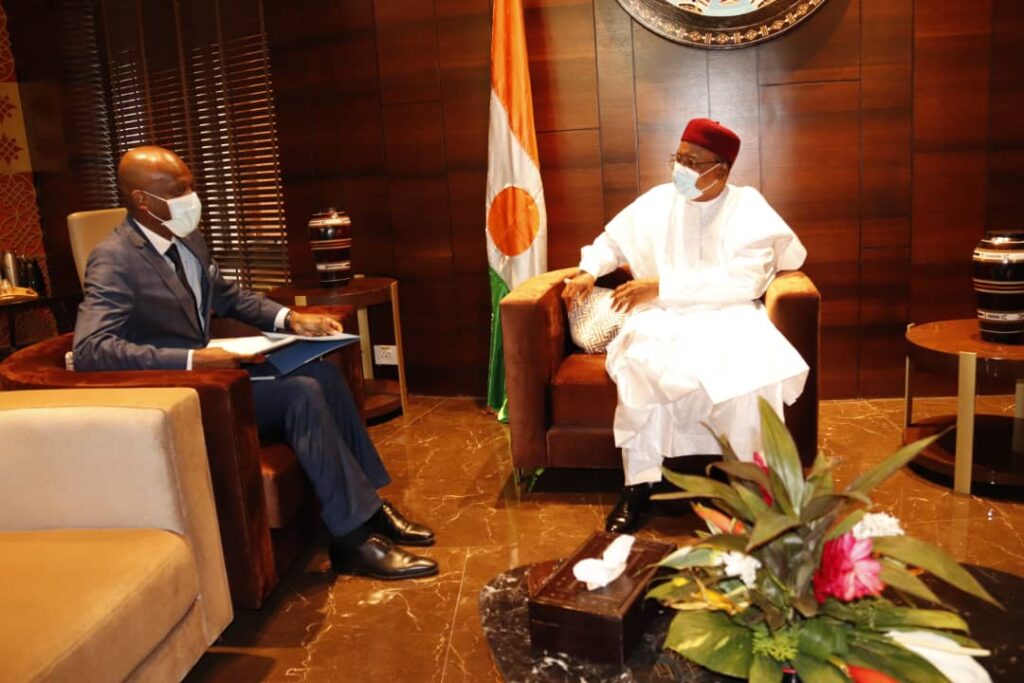 Done in Niamey, November 27, 2020